Post by ZombyWoof on Aug 2, 2012 17:37:48 GMT -5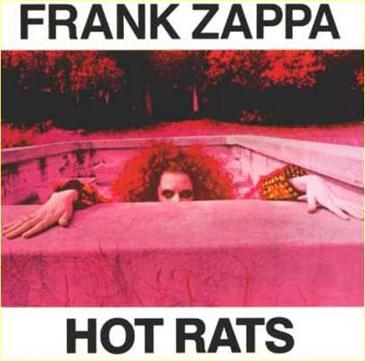 Mine ears have heard the glory... Hot Rats is here! Hot Wax is more like it, because, ladies and gents ... this is the vinyl mix!! The story goes like this ... back in 1969, Frank Zappa had been leading the Mothers of Invention for 3 years and from their stint at the Garrick Theater in NYC, had gained a cult following. Albums such as "Freak Out!", Absolutely Free", and "We're only in it for the Money" featured fantastic playing and biting social commentary. What Frank felt his band lacked, however was a good rhythm section ... he felt his tunes needed to groove more, so he went to work on his second solo album (his first was 1967's epic 30 minute musique concrete opus, "Lumpy Gravy") and employed Mothers woodwind / pianist, Ian Underwood as a second musician. From there, he hired a host of guests to fill out the band, including Max Bennett and Shuggie Otis on bass, John Guerin, Paul Humphrey, and Ron Selico on drums, and Don "Sugarcane" Harris and Jean-Luc ponty on violin. The album, which featured a more jazz approach than the dadaist influences on the early Mothers albums, didn't chart well in the US, but was a hit in Britain and continues to be one of the more well known members of FZ's immense catalog.
However, after all of Frank's LPs were deleted in the early 80's, Zappa went back to his catalog and started a massive reissue campaign. When he acquired his old tapes (which had been owned by Reprise), he claimed that a remixing was needed as they were not kept well. I'm not sure how much truth there is to this, as the original mixes of several of his records have cropped up over the years, but in the mid 80's, Frank made many controversial decisions in remixing his works. "We're only in it for the Money" and "Crusin' with Ruben and the Jets", for instance, featured entirely new drums and bass recorded and overdubbed by Chad Wackerman and Scott Thunes, combining 80's playing styles with 60's music. Zappa fans were not pleased, but for many years, these were the only versions available. "Hot Rats" was never released with an original mix until the 2008 vinyl version, from which this new release is taken from.
Which brings us to now. Side 1 of the vinyl kicks off with that immortal Zappa epic, "Peaches in Regalia" a piece that is simply, one of his very best. From the start, we hear the classic drum roll that sounds like, for the first time on CD, a real kit! The piece itself is one of the hallmarks of progressive music, shifting from one section to the next. On the new remaster, the saxes sound right up in front as they should and we hear for the first time on CD ... flute!! The epic moment (my favorite in the track) at around 1:45 has the sax section swirl and I tell you, the chills just trickled down my spine to hear them as they were originally mixed. Its the aural equivalent of a great tree sprouting from the earth in front of your eyes in mere seconds, its branches flowing out and bearing sweet aural fruit and we can hear the bass grooving along underneath, before switching to another bizarre section which is revealed that the bass guitar has some funky, almost proto disco effect on it ... in 1969!! Frank just knew how to paint with instruments .. he was a master! There's an underlying dissonance toward the middle that I'm not sure I've heard before ... a rather cool effect that sounds like its from the organ.
After a fade, we're launched into the second piece, "Willie The Pimp", of course sung by the infamous Don Van Vliet, (AKA Captain Beefheart) ... Zappa's high school chum who was recording his seminal "Trout Mask Replica" at the same time. From the start, it's much different than the 1984 remix ... there's a cymbal crash at the beginning that was missing from the old Ryko disc that hits at the beginning of the violin intro performed by Don "Sugar Cane" Harris ... one of the funkiest violin players and more rock oriented than fellow Zappa violinist, Jean-Luc Ponty. The mix is darker than the CD, perhaps, but it has more life. Don's voice has some strange almost rotary-style effect on his voice, which when it enters, the violin and the guitar step back onto the fringe of the mix and allow Van Vliet's growl-style voice to take the limelight. Also buried in the back is the odd mandolin sound which appeared in greater form on the Ryko release. When the guitar solo enters, it drifts in and out of the mix, much like the vinyl. For the first time since the vinyl, the guitar is not buried into the rhythm section revealing it to have a slight-wah on the tone. Part way through the solo, which is much less cluttered than on the Ryko release, we hear slight remnants of harpsichord, undoubtedly played by Mothers of Invention alum Ian Underwood, the man responsible for notating Zappa's insane compositions onto staff paper. After some long jamming and exquisite guitar playing from Zappa, the theme is reprised at a much faster tempo at the end by violin and guitar, before ending in a chord filled with some feedback guitar and some light, string-plucking by Sugar Cane that was either buried or removed entirely from the Ryko release.
The last track on Side 1, the epic jam band version of "Mr Green Genes", titled "Son of Mr. Green Genes" on this record is an instrumental variation on the much shorter track from the MOI album "Uncle Meat", released in the same year. On this remaster, the two tracks have a much tighter segue between "Willie the Pimp" and "Son of Mr. Green Genes", mirroring the vinyl version. On this tune, which used to be my favorite Zappa tune ever, the whole thing sounds more like a band to me, more like real live players than the Ryko version and the clarinets (one again, Ian Underwood) are more prominent in the mix. When FZ's guitar entered the mix, the chills shot down my shoulders like rain; its just a beautiful, perfect entrance. This is a much more thoroughly composed tune than "Willie the Pimp" and features guitar and horn interludes throughout. At one point we hear baritone saxes honking along in the background which I don't recall on the Ryko version, perhaps not so prominent as they are here. Max Bennett's bass playing on this track is just fantastic and there's some keyboard washes near the 2 minute mark that sound otherworldly and more prominent vibes and other percussion throughout, one of Zappa's trademarks. After an epic finish, the vinyl Side 1 ends with some more prominent keys and Frank's guitar sounds more alive.
The original Side 2 opened with a song that was never a favorite of mine for some reason, "Little Umbrellas" ... until I heard the vinyl. Here, its back to its vinyl glory .. .the sax sounds more real and the beginning sounds more like a jazz band, albeit one from another planet, with some added vibes. The original mix reveals this to be one of the finest compositions FZ ever wrote ... and I'm not kidding. There's also a slightly different break about 2/3rds the way through after a section which sounds like recorders where the rhythm gets a spotlight with some gorgeous piano chords. It's a sweet little jazzy number, with Frank's signature all over it. It's challenging, its sweet, its got a groove ... its just perfect.
Speaking of groove, the funkiest selection has to be the next number, "The Gumbo Variations" - offered here in its original vinyl length, which is kind of a bummer since the Ryko version was 5 minutes longer, but its nice to hear it the way it sounded in 1969 without breaking out my precious vinyl copy. I kind of wish Gail had included the 17 min version as a bonus cut, but oh well ... at least we have it on the Ryko CD which I think will give me a reason to hang onto it. It's probably the least altered tune on the album, mix wise, opening up with the screaming sax from Ian Underwood and the funkiest bassline in Zappa's catalog. What is missing from the original mix is the opening bass groove and the count off, as well as some of the sax solo, edited for the constraints of the vinyl. It's kind of a shame, as it looses some of its build and intensity on the original mix, but it does provide a Reader's Digest version of "Gumbo" for those of us who aren't into lengthy jazz improvs. Underwood is still absolutely mad and borderline avant garde in his screechy solo. Sugar Cane enters much earlier than on the Ryko version with one of my favorite jazz violin solos ever. I'm not sure if Harris ever led a solo career, but on Zappa's material, he was ace. There is some added guitar underneath the violin solo that I've not heard before, maybe lost under the snap crackle and pop of my worn record. Its a nice touch and very tastefully done, adding some nice rhythm and some organ rolls that are nice detail. FZ's solo takes up a very small portion of the tune and is very experimental and well conceived, like many of Frank's solos. He really lets his muscians shine here: Paul Humphrey's drums follow Frank quite well and the whole thing has an epic finish of drums, violin, organ, and guitar and the mix is considerable less cluttered than on the Rykodisc version. It ends with some nice playing from all and some traces of violin and cymbals that ring out in the end. Very cool.
The last track, "It Must be a Camel" so named for all of the notes on the page that looked like a camel's humps. The whole thing is extremely well done with some dual sax from Underwood and violin from Jean-Luc Ponty. Its much more clear on the original mix and sounds quite beautiful, with excellent interplay of dissonance and consonance. Parts of it sound like its from another galaxy. It almost turns into a rock band with Frank's solo in the middle and some tasteful, jazzy piano chords from Underwood. The whole track is a joy to listen to and is almost a precursor to Frank's orchestral works, combining styles masterfully. The mix here is clean as a bell .. sonically perhaps and the light touches of piano resonate beautifully at the end, capping off a perfect album.
In summary, what I can say is that this is an essential purchase for Zappa fans. With the album back in its original format, we can now hear what made this so special in the first place. The whole thing sounds more alive and more like a band with live musicians, as opposed to the remix which, to my ears, sounded more like one of Frank's latter-day synclavier projects. Compared to the vinyl, the remaster has helped quite a bit ... there's certainly more bass and more clarity than any other iteration of the album I've heard.
Well, that's it for now, everyone. Stay tuned for a review of "Burnt Weeny Sandwich" reissue in the near future. That's right folks, don't touch that dial...
Links:
Offical Zappa site:
www.zappa.com
Amazon link:
www.amazon.com/Hot-Rats-Frank-Zappa/dp/B008BDZP3K/ref=sr_1_1?ie=UTF8&qid=1343946944&sr=8-1&keywords=hot+rats
Remix of "Peaches en Regalia"
Vinyl mix of "Peaches en Regalia":